HELPING PEOPLE FOR OVER 50 YEARS 
Carrs Lane Counselling Centre Ltd is a registered charity run on a voluntary basis. We are one of the pioneers of counselling for adults within Birmingham and we have been successfully helping people for over 50 years. We are based in the centre of Birmingham. We are dedicated to providing a low cost first class counselling service for adults from Birmingham and the surrounding area, who can travel to meet a counsellor here. We are also able to provide counselling by telephone. Through counselling we can assist you with a range of issues. 
SERVICE ACCREDITATION 
Our counselling service is accredited by the British Association for Counselling & Psychotherapy BACP which is an acknowledgement of our continued dedication to achieving and maintaining high standards of service provision.

FIRST CLASS PURPOSE BUILT FACILITY
To ensure your comfort and privacy, our service is offered in a first class purpose built facility which is accessible for people in wheelchairs. We encourage all our counsellors to undertake regular continuing personal and professional development and to work towards the acquisition of BACP accreditation. We also insist that each of our counsellors is a member of one of the counselling profession's main governing bodies.
OUR EQUALITIES STATEMENT
At Carrs Lane Counselling Centre we recognise the value of diversity and equality in the wider community and in our own organisation. We implement an equal opportunities policy for all.  Our accessibility statement is here.
MICHAEL JACOBS, a highly respected figure within the counselling profession is our patron.
50th ANNIVERSARY OF CARRS LANE COUNSELLING CENTRE
In November 2017, Carrs Lane Church and Carrs Lane Counselling Centre held a special service at Carrs Lane Church to commence the celebrations of our 50 years of being open to provide counselling to clients.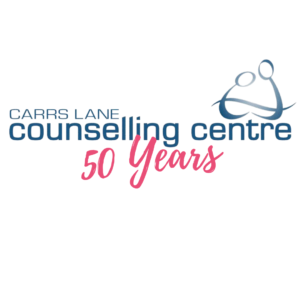 OUR VISION, AIMS AND BEHAVIOURS
Carrs Lane Counselling Centre provides a professional, confidential and non-judgemental counselling service for those experiencing difficulties in their lives.
Visions and Aims:
 We are a registered charity that is supported by professionally trained counsellors who volunteer their time and expertise to help clients because they really care.

We have been a recognised service provider within the community for over 50 years.

Our counselling service is accredited by The British Association for Counselling and Psychotherapy (an organisation that promotes high standards of practice within the counselling profession).

 We ensure high standards and are constantly monitoring our delivery to provide an exceptional service.

We do not charge a fee for counselling but we do ask, where it is possible, for a contribution

We offer one to one counselling for a wide range of problems, and also counselling for those experiencing difficulties in relationships.

We offer an adult counselling service that is underpinned by person centred values and is in keeping with the British Association For Counselling and Psychotherapy Ethical Framework for the Counselling Professions, which sets out standards of good practice
BEHAVIOURS AND VALUES
Putting People First By:
Working together

Respecting and helping each other

Finding ways to improve how we deliver our service

Collaborative decision making

Respecting individuality

Encompassing diversity

Promoting equality

Contributing to the overall vision and aims

Providing the best possible service

Looking after ourselves and others
A copy of statement on our vision, aims and behaviours and values can be viewed here.
COMPLAINTS POLICY
As you can see from the above, we are committed to providing the best possible service that we can. If our service falls short in any way, we want to try and remedy that wherever possible. If you wish to have a copy of our complaints policy or to make a complaint please email us at counselling@carrslanecounselling.co.uk
SAFEGUARDING POLICY
Our safeguarding policy is available to view below.